Sympathy Poem Verses
Looking for sympathy poem verses that will capture your every emotion at this moment in time. At difficult times, it is important to just do it. Reach out, tell someone you care, tell someone you are sad, tell someone you love them. It is the thought that counts and these sympathy poems although not many can be helpful.
Comforting the bereaved with a sympathy poem goes further than you may think. I hope you find what you are looking for and if you don't please visit one of the many other pages on my site including Sympathy Sayings for some other options.
---
• May the sun rise again in your heartThe best medicine is all the memories you sharedMy friend, you will get through this and it will make your life so much more complex and even more special than you imagined.

• Sometimes it is hard to hear the birds singing outside of your window. But know one day you will not miss a beat. Please keep your head up and focus on all the love that surrounds you.

• Life doesn't make sense at many moments in our life. The pain we go through when we lose someone we love never goes away, it just fades. Please keep your heart open to the many gifts of love you will be receiving in the near future.

• As the flowers bloom and the sun shines, so will your heart again. Birth is a beginning and death a destination.
• The sun still shines when you see no light in sight. The flowers still bloom when your heart is weeping. Life will continue to move even though you feel stuck and one day soon the love around you will give you the strength to rise.
Here's another thought..........
Not finding the "perfect poem", well then you have two options, 1 is to search the web below or you can always create your own poem from the heart, you don't have to copy a verse or do something formal. Showing your support during a time of grief does not have to fit in a box. You can use what you are feeling and draft something beautiful. 
Or.......
Take a look at the EBOOK below that will have what you are looking for:
  Instant funeral poems right now "Do Not Stand At My Grave And Weep Ebook" 
Click Here!
Soothe your soul with this unique collection of over 250 of the world's best funeral poems, quotations and readings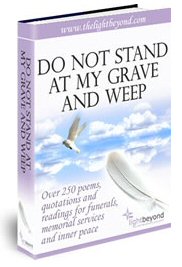 We all have different and special relationships with the friends and family in our life. Take a moment and reflect on what that means to you. I bet you would surprise yourself at what you come up with.
Still need more? Visit Sympathy Sayings for more to options 
Search Google below for more options:

Custom Search
---
Leave Sympathy Poem Verses and Return to Home Page
---